It's easy to get excited about the sexy franchise brands out there like an Orange Theory Fitness or Crumbl Cookies, especially when they have a killer product and a cult-like following. Roofing though? Doesn't always get people's blood pumping.
The smartest business owners and entrepreneurs know that you don't need a flashy product to see huge revenue numbers. Home Service franchise brands continue to explode across the country and our latest Sidekick Certified Brand is no exception.

If you're looking for financial freedom and want to begin building your empire, Best Choice Roofing is your brand. Founded in 2009 by Wayne Holloway, BCR has grown to become the highest-producing roofing franchise in the US, with over 70,000 roofing projects completed (these guys know their stuff). Best Choice Roofing specializes in roof repairs and replacement, with an average ticket of over $12,000, most of which is paid for by insurance. This means no insane bill for homeowners, which makes for an easy sell.
Now let's talk revenue, because BCR completely blew our team away after reviewing their item 19. Affiliates averaged over $3.8 MILLION in gross sales in 2021, with the company-owned location doing $14M in gross sales. For a company that just started franchising this year with huge revenue numbers paired with strong franchisor leadership, systems, and proven processes, we know BCR won't have prime territories available for long.
We could go on about revenue and Best Choice's item 19, but here are more reasons why the Franchise Sidekick team loves this franchise brand:
Brand Superpowers
Strongest Item 19 In Sidekick Portfolio
Insanely Fast ROI
No Inventory
Small, Specialized Team
Sizable Territories
Best Choice Roofing has Sidekick team members wanting a piece of this pie. Here's why Mike Silverman, Franchise Sidekick Advisor, is excited about bringing Best Choice Roofing to his clients: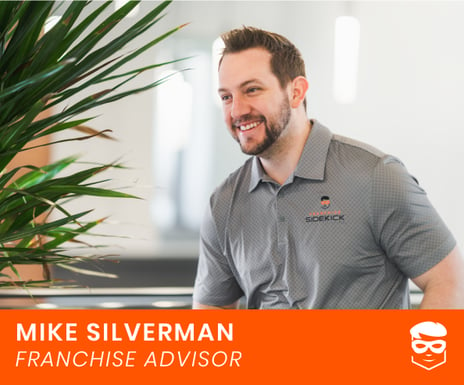 WHAT WERE YOUR FIRST THOUGHTS AFTER DOING AN ANALYSIS OF BEST CHOICE ROOFING?
There is no roof on this revenue potential (had to throw that one in there)! BCR is such a lean company, everything is going toward revenue with no overhead sucking up income. I couldn't believe their top sales rep made $500,000 in commissions in ONE year, more than a lot of franchisees typically make. The sky's the limit when it comes to revenue potential with BCR.
IN YOUR OPINION, WHAT IS bCR'S TOP BRAND SUPERPOWER?
The earning potential is unmatched. Best Choice Roofing has the best item 19 I've seen in a minute. Plus the potential to break even in 3 months!? Absolutely unbelievable brand.
WHAT TYPE OF CLIENT WOULD YOU RECOMMEND BEST CHOICE ROOFING TO?
Wayne Holloway mentioned that "empire builder mentality", which I love. He wants franchisees who are hungry, and looking to create a legacy. We definitely want to pair outgoing, high-energy, sales-driven individuals with this brand.

While BCR is already a new favorite brand here at Sidekick, we never want to gloss over the negatives. Every brand comes with common objections and it's our job to address these with our clients. We want to make sure our clients know everything about a brand before purchasing, even the not-so-pretty and polished pieces. So let's go over some common concerns clients may have when looking at a Best Choice Roofing franchise:
Q: What about seasonality? Can a roofing franchise be successful year-round, in any market?
A: Roof damage occurs everywhere and in any season. BCR has the proper relationships with vendors and the credibility to keep them working during winter months.
Q: Are BCR owners running into any hiring issues?
A: When hiring contract labor, employees are looking for high wages, consistent work, and a great culture. BCR changes people's lives by helping them make an exceptional living and allowing them to work within a strong, positive, caring culture. Subcontractor roofing teams love working with BCR because they are provided with work every single day. BCR helps them scale their business and provide consistency through volume.
Q: Is Best Choice Roofing essentially storm chasers?
A: Much of the BCR competition is storm chasers. BCR prides itself on NOT being storm chasers. Their employees are deep-rooted in their communities before the storms and will be there long after. They hire local employees and crews, and encourage franchisees to be involved in their communities through giving back.
We know every franchise brand will always have some hangups for our clients, which is why we LOVE bringing on new brands like Best Choice Roofing. BCR makes addressing these cons a breeze, because the positives greatly outweigh any holes we could poke in this franchise.
Unrivaled revenue potential, an incredible franchisor, low overhead, low initial investment, crazy quick ROI, and small, specialized teams are just some of the reasons our advisors are thrilled to bring Best Choice Roofing to Sidekick clients.

If you'd like to see if your ideal territories are still available, or if you just want to chat with an Advisor about our Sidekick brands (all at no cost to you), schedule a call with us below.