It's easy to look at a home services franchise, like a fencing company, and think "Why would I invest in that? There are already a million companies like this out there." The beauty of franchising is that sometimes the most seemingly mundane concepts are where the magic happens.

Fencing has completely transformed lives. Sure, that sentence sounds silly, but with Superior Fence & Rail we've seen it happen. With an initial investment lower than what we typically see, and franchisees averaging $2.9 MILLION, it's hard NOT to get excited about fencing.

Our team at Franchise Sidekick has sifted through hundreds of FDDs in our collective 50+ years of experience and evaluated every kind of franchise imaginable. We were shocked to see a fencing company completely blow us all away.

Fencing is everywhere and while, yes, there are other companies out there, nobody is doing it like Superior Fence & Rail. They are the first and only national fence franchise in the country, with their competition being local mom-and-pops.

We assign every brand we work with their own "Brand Superpowers", or incredible strengths that make them stand out from other franchise concepts. These are just a few reasons why our team at Franchise Sidekick loves Superior Fence.
Brand Superpowers
Strong Purchasing Power - 20-30% Savings On Supplies
In-House Fabrication
Incredible Item 19 - Average Franchisee Earning $2.9M
The First Fence Installation Franchise - Zero Major Competitors
#1 Must-Have Feature of the House
Backed By Outdoor Living Brands™
Being backed by Outdoor Living Brands™, a major player in the exterior home services industry, is another huge differentiator for Superior. Outdoor Living Brands™ is a multi-brand franchisor that has successfully scaled several home services franchise brands, including Conserva Irrigation, another Franchise Sidekick certified brand. Their brands have produced over 500 franchisees with over $1 Billion in retail sales.

With all these brand superpowers, it was a no-brainer to add Superior Fence & Rail to our Sidekick portfolio. When we bring on new brands to work with at Sidekick, our Advisors conduct their own analyses for their clients. We had one of our Advisors, Mike Silverman, break down why he loves the Superior Fence & Rail franchise opportunity.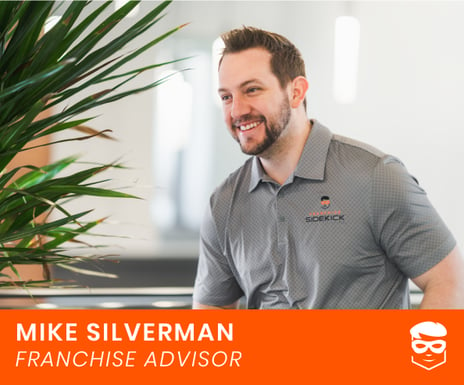 WHAT WERE YOUR FIRST THOUGHTS AFTER DOING AN ANALYSIS OF SUPERIOR FENCE?
I was amazed by how much revenue is in fencing and the industry size ($10 Billion). Superior Fence offers franchisees a low investment model, with current Zees averaging $2.9M in gross revenue. That number completely blew me away.

There is so much opportunity with this brand, especially considering there are ZERO national players. I was also surprised by the fragmentation of the current market, and how bad the service side is amongst other brands. Superior Fence is definitely doing it right.
IN YOUR OPINION, WHAT IS SUPERIOR FENCE'S TOP BRAND SUPERPOWER?
Definitely the systems - Zach Peyton (Founder, VP & Brand Leader) and his corporate team have everything so dialed in. You can definitely see Zach's military background in Superior's systems and processes. He also has such a unique story within the company, starting as a license holder running their Jacksonville location.

They were so impressed with his success and how he ran his business, they asked him to use it as the groundwork for Superior's franchise system. Each piece of the business is figured out with such detail, and their constant focus on perfection ensures they continue to improve upon these systems each step of the way.


WHAT TYPE OF CLIENT WOULD YOU RECOMMEND SUPERIOR FENCE TO?
Definitely someone looking to make a large impact and begin building their empire. The scalability with Superior Fence is incredibly strong. This is the type of brand you could grow with, and bring family on board to begin your own family legacy. This is perfect for a client looking to leave their 9-5 and replace that income quickly.

It's clear our Sidekick Advisors are loving what Superior Fence & Rail has to offer their clients, but of course, there will always be objections. We encourage Sidekick clients to ask questions related to areas of the business they're concerned about. Here are some common concerns and questions we've heard about Superior Fence & Rail:
Q: What if I have no prior experience in the fencing industry?
A: Outdoor Living Brands™ has successfully trained, coached, and mentored 500+ franchisees across its franchise businesses and over 95% of them had no prior industry knowledge. Superior Fence & Rail's training program is extensive and methodically planned, ensuring franchise owners know the ins and outs of the business before launch.
Q: Fencing is a seasonal business in many markets. What happens to the business during winter months?
A: When the temperature drops below 32 degrees and/or snow is on the ground it does get tough to continue installation. This is only an issue in northern states but all fencing businesses in these areas run into this issue.
Q: How are supply chain issues affecting business?
A: Superior Fence has made strategic partnerships with national vendors to provide aggressive bulk purchasing power. They buy millions of pounds of fencing material each year for 20-30% cheaper than competitors. Franchisees also utilize in-house fabrication for increased profit margins, which allows them to take control of their supply chain, buy generic, customize in-house, and simplify inventory. 8 SKU's turn into hundreds of product options.
While every franchise has its pros and cons, our team at Franchise Sidekick loves what Superior Fence & Rail brings to our portfolio and to our clients. Our team evaluates 200+ franchise concepts each year, and we can tell you it's not every day we come across an emerging concept with outstanding financials, unrivaled systems & processes, and a franchisor who is a true visionary

The only thing we wish we could change about Superior Fence & Rail is territory availability! With any hot emerging franchise brand, territories go FAST. Superior still has a lot of great territories up for grabs, but this definitely won't be the case for long.

If you're interested in checking if your ideal territories are still available, or if you just want to chat with an Advisor about our Sidekick brands (all at no cost to you), schedule a call with us below.