If there's one thing we know for certain, it's that we all want financial freedom. Freedom to live life on our terms and build a financial support system for ourselves and our family.

How incredible would it feel to finally quit your dream-draining corporate job? Or be able to start a family business that you can hand down to your children?

This is why we're obsessed with franchising. At Franchise Sidekick, we've seen franchising transform lives firsthand, and we chase this success for our clients every day.

We also understand that buying a franchise is probably one of the biggest decisions a person will make in their life. We always say deciding on a franchise brand is like finding the person you're going to marry. It's not a decision we take lightly, and neither should you.

At Franchise Sidekick, our superpower is reducing your risk when buying a franchise. Sure, that sounds nice, but you may be wondering how we actually do it. No salesy BS or empty promises, but how exactly do we reduce the risk for our clients? It's a combination of knowledge gathered in our 50+ years of collective experience, processes we've put in place, and proprietary technology to better match clients with our certified brands. We break it all down for you below:
Sidekick Certified Brands: We only show our clients the best emerging franchise brands.
The Sidekick 7: Our proven path to franchise ownership through a seven checkpoint system.
Franchise Advisors: Your sidekicks are here to guide you through each step of the process and make sure you have everything in place to be a successful franchise owner.
Insider Information: Our industry experience and franchisor relationships allow us to provide insider knowledge to our clients that others don't have, or won't show.
Sidekick Certified Brands
We always say the number one predictor of being a successful franchise owner is finding the right brand. There are an overwhelming number of franchise concepts in America, with more launching and failing each year. So many people are drawn to the big names, because who wouldn't want to own a Chick-fil-A or Jimmy John's? The catch is, these household name brands have limited availability, limited growth potential, and can be crazy expensive to buy into.

So you may start looking at newer brands, with a lower cost of entry and better availability. There are still 4,000+ of these concepts to wade through, so how can you be sure you're investing in a strong brand?

We've heard all the concerns about finding a franchise brand over the years:
How can I be sure I'll see a strong return on my investment?
How much support will I receive from this brand? Do they handle any marketing, sales, customer acquisition, training, etc.?
What kind of time commitment will I have, and can I balance this franchise with my other commitments?
Will I be able to scale this concept?
This is where our Sidekick Certified Brands come in. We handle the heavy lifting for you by evaluating hundreds of brands each year, sifting through FDD after FDD (Franchise Disclosure Document). We've been able to nail down what separates an exceptional brand from your average franchise concept.

We're able to identify these brands as emerging concepts, or franchises that have already proven a successful model and are getting ready to experience explosive growth. The key is getting into a franchise like Orange Theory or Dunkin' Donuts early on, when franchise fees and initial investments are low, territory availability is strong, and the founding team is excited about the company's future vision.

Each Sidekick Certified Brand has the potential to be the next household name franchise brand, with certifications like:
High ROI
Insane Growth
Strong Customer Acquisition
Incredible Scalability
Fast Breakevens
The Sidekick 7
Buying a franchise can quickly become overwhelming. You've got 100+ page documents to review, funding to figure out, multiple meetings to schedule, and so many other factors that can steer you off the path if you're not working with the right team.

Franchise Sidekick breaks down a daunting task, buying a franchise, and maps out a simple, step-by-step plan. We do this using The Sidekick 7, our proven path to franchise ownership. The beauty of this seven checkpoint system is that it's been proven time and time again. It's how we've been able to award 3,500 franchise locations and helped over 900 families become business owners over the past 5 years. Throughout the seven checkpoints, we pair our expert Sidekick Advisors with our proprietary technology to better determine which brands are the perfect fit for each client.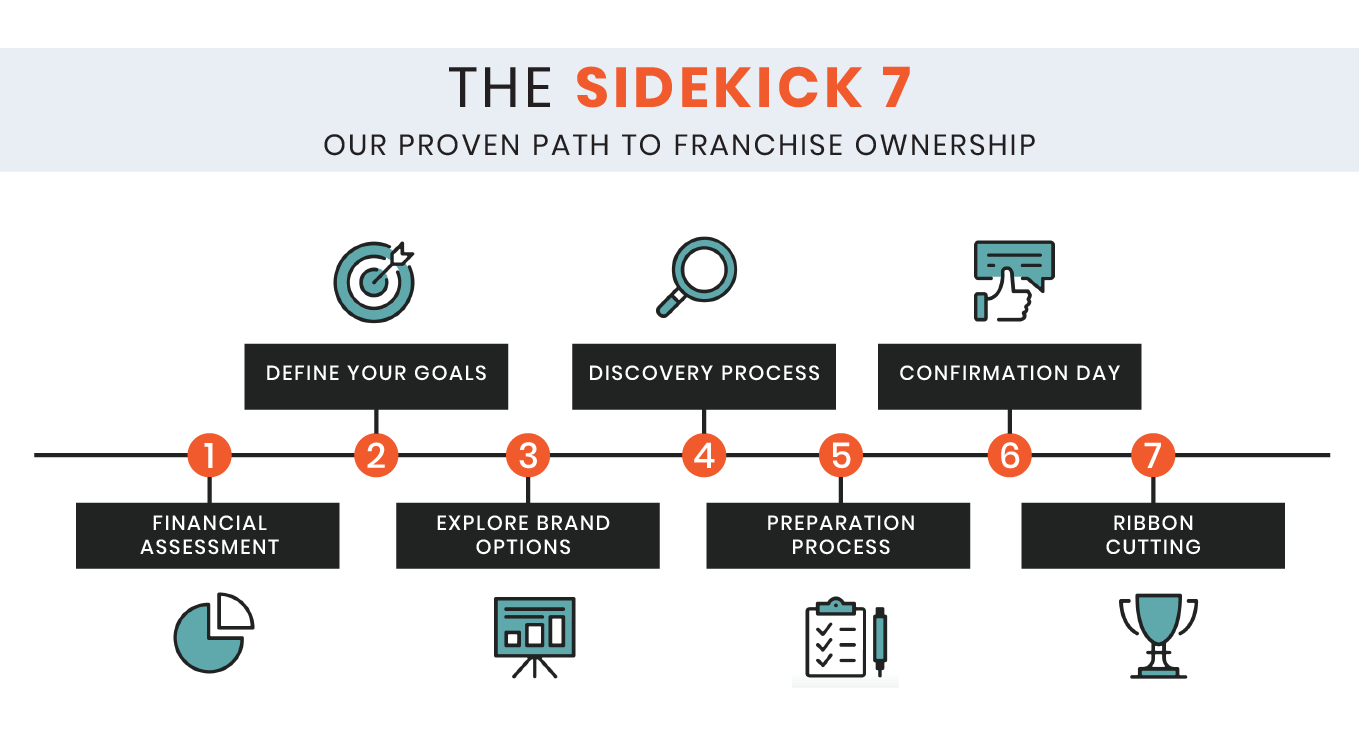 Franchise Advisors
You've got a lot going on. Our job at Franchise Sidekick is to simplify the franchise buying process so you can focus on the other items filling up your never-ending to-do list. Your Sidekick Advisor will guide you through each of The Sidekick 7 checkpoints, handle the due diligence for you, connect you with our trusted partners, and make sure you're prepared throughout the entire process.

When buying a franchise, you don't know what you don't know. Basically, our advisors are here to make sure you're asking the right questions, things you may not have thought of. Your Sidekick Advisor will make sure you're prepped for C-Day, have great questions to ask other franchisees of the brand, and will work with the brand representatives to get you any information you need.

As cheesy as it may sound, we really are the Robin to your Batman throughout the entire process.
Insider Information
We get it, not everyone is a franchise fanatic. At Franchise Sidekick, we're obsessive about franchising, so our clients don't have to be. Many of our team members are franchisees themselves, with knowledge of the industry from the inside out.

More than that, our team knows Sidekick Certified Brands from the inside out. We've spent hours learning about these brands directly from franchisor representatives. We have access to insider information from the brands that other franchise consultants either don't have or won't show you. Insider information like:
Franchisee Validation: How other franchisees are feeling about the brand and if they've been successful after opening.
Franchisor Preferences: What franchisors are looking for in candidates and how to stand out from other potential franchisees.
Funding Strategies: How to ensure you're making a smart investment and are strategically funding your business.
Premium Territories: Which premium markets are still available and when should you consider investing in multiple?
Hot New Brands: First look at top-performing, emerging franchise concepts.
Real-Time Updates: First updates on brand performance, FDD changes, new national brand accounts, and new funding partners.
All this information can make a huge difference when deciding on a brand, and the brand deciding on you.
In summary, we're doing things differently at Franchise Sidekick, all with one thing in mind: reduce the risk for our clients when buying a franchise. We want everyone to be able to experience the freedom to live life on their own terms, no matter what that means for them. Whether you're wanting to quit your 9-5 job, start a side business, or expand your business portfolio, Franchise Sidekick is here to help you reach those goals through franchise ownership.