Hot, fresh, made-to-order mini donuts with a tall iced coffee or fresh squeezed lemonade...is your mouth watering yet? Reading this article might make you hungry, but it could also inspire you to change your life and become a DonutNV franchise owner making 83% net margins (more to come on that).
When we first evaluated this mouth-watering concept, we'll be honest, we were skeptical. Not for a lack of donut love, but because we typically avoid food concepts like Superman and kryptonite. Why? A great food concept usually means a pricey build-out, 10+ minimum wage employees (get ready for those no-shows), and low margins. At Sidekick, we're all about the low risk, low investment, high return franchise concepts, and most food brands don't fall into that category.
Then we learn about DonutNV, a fresh new 100% mobile food truck concept with a simple model, low overhead, few employees, and 83%+ net margins! "Let us see that FDD," we all thought, as there had to be a catch here.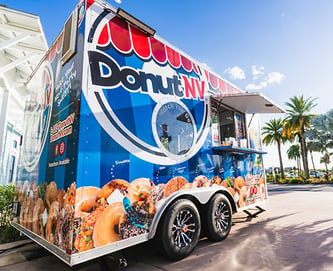 Not only did DonutNV craft the perfect recipe for their donuts, but their recipe for success is equally as delicious. Their 83%+ net margins are no joke, and they're able to do this through a truly unique model. Founders Alex and Amanda Gingold painstakingly designed the ultimate mobile concept with their turn-key, one-of-a-kind donut trailers built from the ground up. They use a proprietary donut mix with a long shelf life, and because products are made-to-order, franchisees can expect high margins with very little waste.
Not to mention, DonutNV is a FUN franchise concept that brings joy to customers and communities. Plus donuts. Wins all around.
To recap all the reasons you donut want to miss out on this hot emerging brand, check out their Sidekick Brand Superpowers.
Brand Superpowers
Incredible Profit Margins (83%+)
Proprietary Equipment And Products
Limited Overhead
Limited Downside Risk
Simple Business Model
After our initial analysis of a brand, we always ask our Sidekick Franchise Advisors to give us their two cents. They work with clients daily to find each person their perfect franchise fit. Did DonutNV live up to the high expectations they have of Sidekick brands? Hear from Ross Robertson on his analysis of the brand, and what types of clients he thinks this is a great fit for.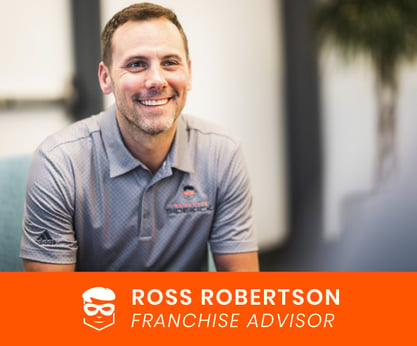 WHAT WERE YOUR FIRST THOUGHTS AFTER DOING AN ANALYSIS OF DONUTNV?
It's such a unique brand compared to the rest of the Sidekick portfolio. Low overhead plus an interesting royalty structure, the risk factor here is incredibly low, especially for a food concept. And of course, the margins are wild. We typically avoid food concepts, but this one is something special.
WHY WAS DONUTNV ADDED TO THE SIDEKICK PORTFOLIO?
Low overhead, high net margins, incredibly low risk. I'm not sure if we've ever found a lower overhead, higher net franchise concept out there. It blows every food concept I've seen out of the water. We're all about reducing risk for our clients, which is why I love this brand. For my clients who typically don't gravitate toward food concepts, they are hesitant when I first show DonutNV. In many cases, by the end of our process, DonutNV is their top pick.
IN YOUR OPINION, WHAT IS DONUTNV'S TOP BRAND SUPERPOWER?
It's hard to pick anything but their insane 83%+ net margins. This brand has a lot of strengths, but those margins are definitely #1 in my book. Those margins are possible because of DonutNV's simple model, their 100% mobile concept, made-to-order products with an incredible shelf life (little to no waste), and very little overhead.
WHAT TYPE OF CLIENT WOULD YOU RECOMMEND DONUTNV TO?
I love this brand for someone looking to grow a business with their family, or a young couple excited and hungry (pun intended) to build something together. This is the perfect brand for a first-time business owner, especially for those looking to leave their 9-5 jobs and find more freedom. I think the DonutNV model also makes it easy to bolt onto other businesses, like those in the restaurant or hospitality industry.

We've now covered all the sweet reasons to love DonutNV, but our Advisors are never going to sugarcoat it. This brand isn't for everyone. If the idea of working in customer service sends you running, DonutNV isn't for you. After all, they have a reputation to uphold as the "Chick-fil-A of the mobile donut world".
Check out some of the other common questions and concerns we've heard from potential Zees.
Q: How am I going to book enough events?
A: The brilliant minds behind DonutNV are mobile food industry veterans, and are very experienced with organizing food truck events. They train their franchisees to understand exactly what makes a successful event. Their pre-training marketing launch focuses on securing traction in a new territory before formal training begins. These ground efforts help to create initial activity which begins opening doors in the franchisee's local community and gets franchisees excited about sourcing and booking events.

DonutNV also provides lead generation tools that allow franchisees to easily communicate with incoming event leads and secure events. Their Lead Connector system utilizes auto-responders via text and email to acknowledge initial incoming leads minutes after they are received while also following up on outstanding quotes to help book more events. Franchisees will choose the events that make the most sense for their individual business utilizing the tools they've created and maintain to keep their truck activity high.
Q: What about competition? Seems like a highly saturated industry.
A: Sure, the food truck space is booming, however many food truck operators are mom & pop, single-unit operations with limited brand awareness and industry knowledge. DonutNV trains franchisees to be experts not only on their product, but also on sales and marketing in the mobile food space. Their event pricing is competitive and although not always the least expensive option for catering, the interactive mobile experience that DonutNV trailers and franchisees deliver is second to none.
Q: What about seasonality?
A: Some people perceive DonutNV as a seasonal business that is best launched in the Spring. DonutNV's menu offering allows franchisees the opportunity to operate their mobile unit year-round to not only include made-to-order hot mini donuts and fresh squeezed lemonade, but also a variety of seasonal hot beverages during the winter months. In addition to being a year-round business, during slower event times franchisees are encouraged to utilize their downtime to market and network in their territory to generate new relationships and open the door for future events. The company-run mobile unit in Pennsylvania operates in all seasons and weather conditions, is highly successful in operating year-round, and specializes in pre-paid catered events.

Just like their made-to-order donuts, we predict territories are going FAST with this brand. If you're interested in learning more about DonutNV, or want to explore other Sidekick Certified Brand options, schedule a free 10-minute call with us to get started.